PROTECTION AREA
When you use YIT's logo, leave the
protection area (marked here in light
grey) clear of any elements.This way the
logo will have enough space to breath.
This is easy to do, as the protection
area is included in the logo files as a
transparent field.
MINIMUM SIZE
The logo should always be legible, so
make sure it's big enough and appears
in good quality.
The minimum width of the logo (without
the protection area) should be 15 mm
in printed materials and 85 px in digital
materials.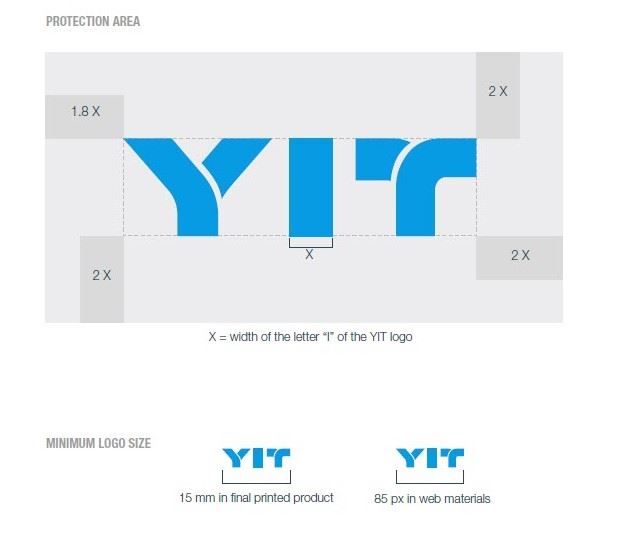 COLOUR USE OF THE LOGO
The YIT logo is always blue or white.
The logo may be used on top of coloured
backgrounds and photographs, as long as the
background allows the logo to stand out.
Black logo version is allowed only in cases
where colour printing is not possible.
IN CORPORATE COMMUNICATION
Prefer the blue logo. Use it on light backgrounds
and on YIT grey background. Use
the white logo only where the blue one won't
stand out.
IN MARKETING COMMUNICATION
The white logo can be used on top of all the
YIT brand colours. Use the blue logo where
the white one won't stand out.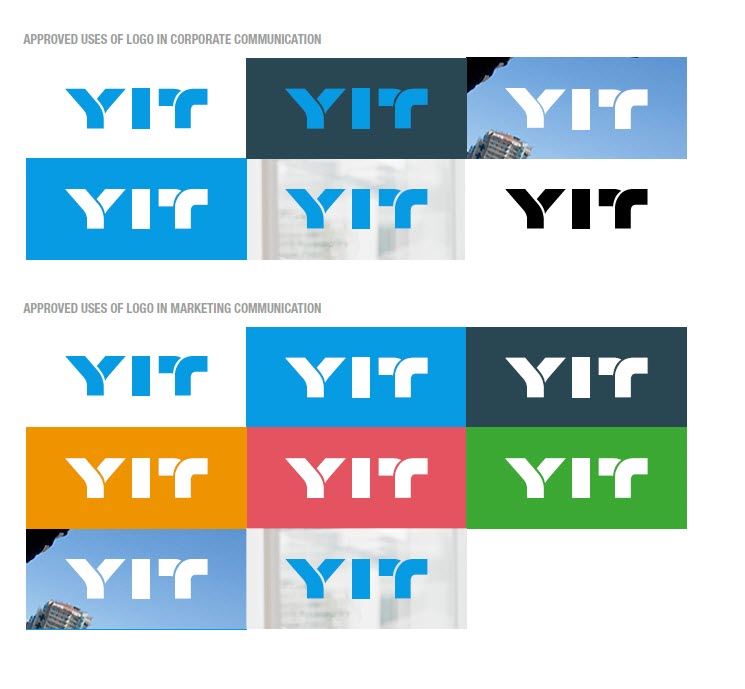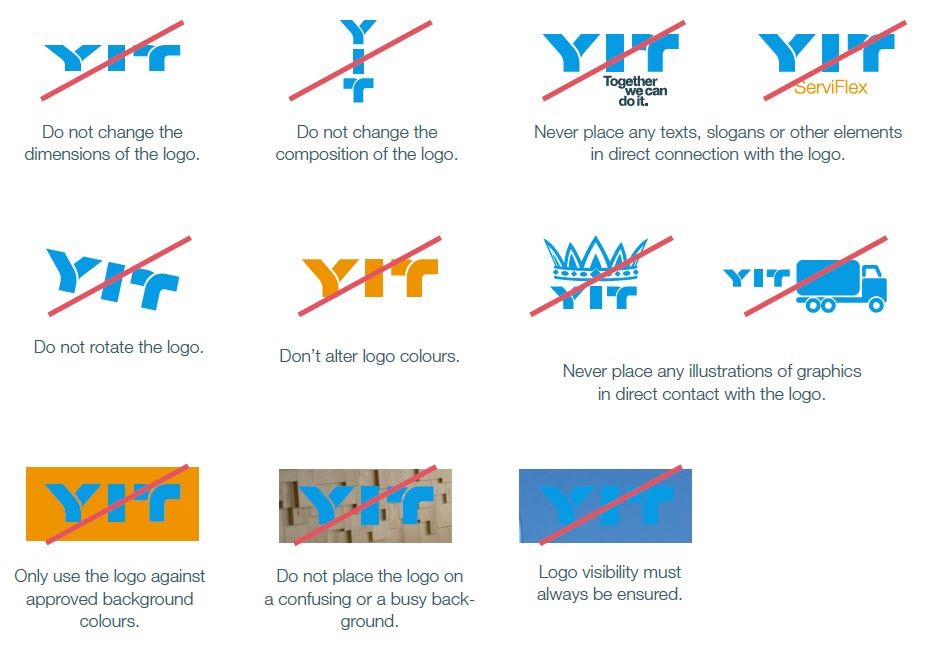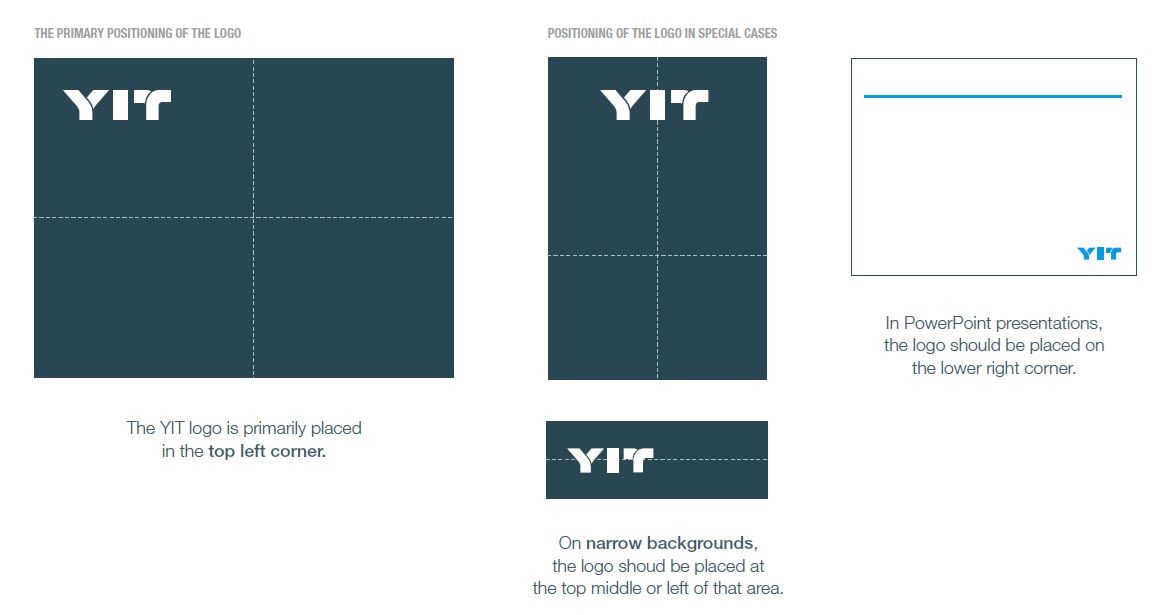 COLOURS
IN CORPORATE-LEVEL COMMUNICATIONS
The main colours are blue, grey and white.
Red, orange and green can be used as supporting
colours and in details.

IN MARKETING COMMUNICATIONS
With B-to-C marketing, YIT's identity is more
colourful: Use all six colours equally.
Colours are primarily used as large, solid
colour surfaces.
For long texts, the best colour is black.

TINT COLOURS
Tint shades can be used, for example, as secondary
colours in various materials, graphs and as effects.
Don't use tint colours as dominating colours, for
example on covers of brochures, or as background
colours of ads or any other materials.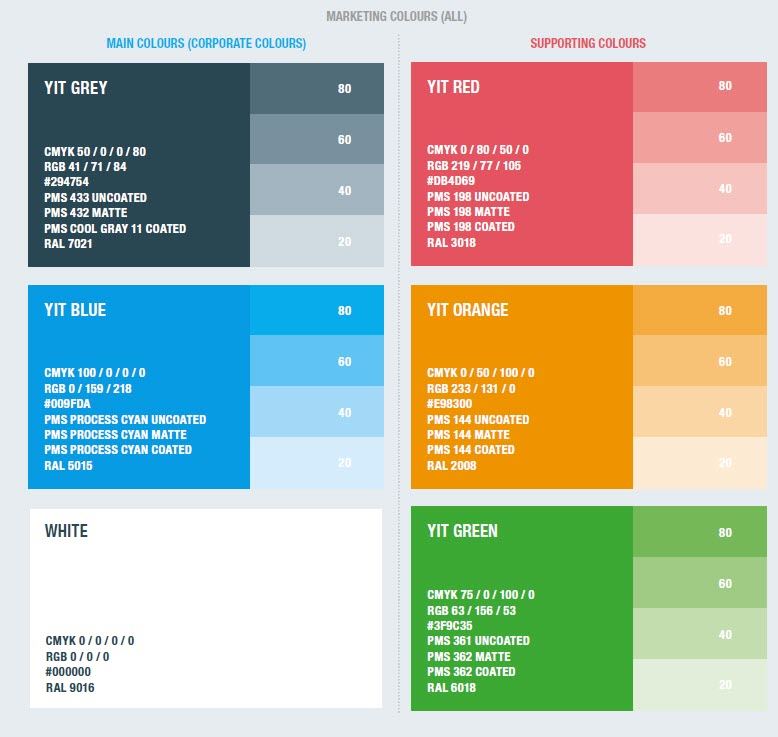 TYPOGRAPHY
YIT's official font is Helvetica Neue.
Webfont-versions of Helvetica Neue
are available for online use.

The Arial font family is used in digital
applications outside online use. Choose
Arial in Microsoft Office applications, such
as Word or PowerPoint documents.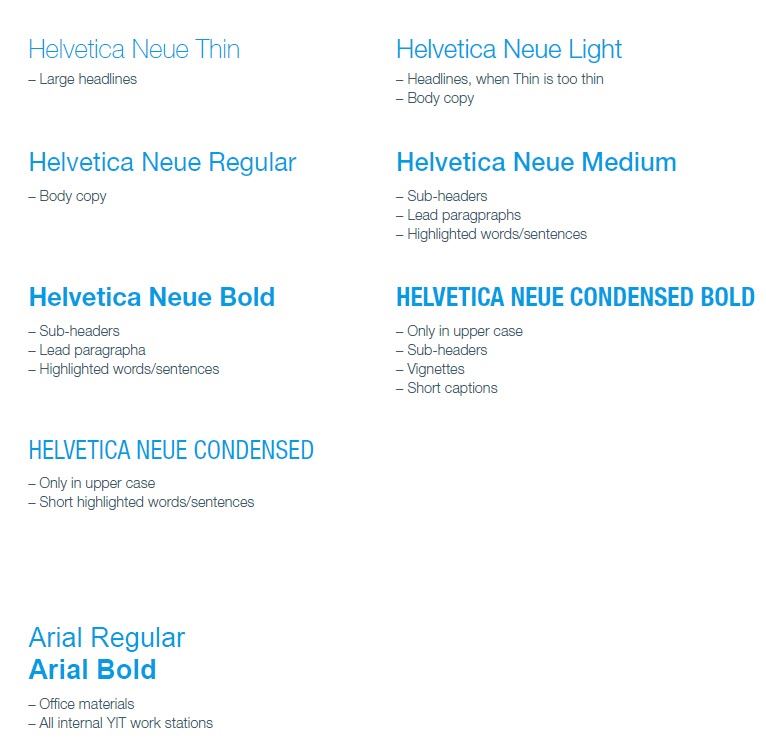 YIT has its own website icon that should be
included in all graphic materials.
The website address on the icon should
direct to YIT's main page or to other pages
on YIT's website.
An icon should always be legible, so make
sure it's big enough and appears in good
quality. However, icons should never be
bigger in height than the YIT logo.
Icons come in all of YIT's brand colours.
Use icons in a colour that stands out
against the background. A good rule of
thumb is to choose the heart colour to be the
same colour as your background.