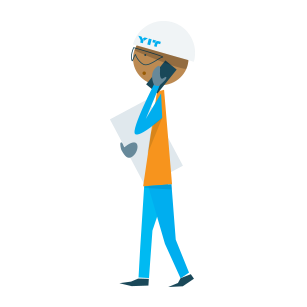 E-invoice
Primarily bills should be sent electronically to our e-invoicing addresses. Our operator is Basware Oyj, whose indeifier code is BAWCFI22.
Any enquiries you have relating to bilss or billing, you can email to: ostoreskontra@yit.fi
Enquiries relating to sales you can email to: yitrakennus.myyntireskontra@yit.fi
Baseware Supplier Portal as an option
If your business does not have the possibility to send bills electronically, you can also send them through the Basware Suplier Portal.
PDF bills
Paper bills can be sent as PDF files via email. Each business' email addresses can be found behind the following link. Each bill and all its attachments ought to be sent in as a whole. The bill and its attachments need all be included in the same PDF file. If you are sending the bills to be scanned, they need to be readable without further modifications.
Billing addresses
Our email addresses are as such: firstname.lastname@yit.fi

YIT OYJ
Business ID: 0112650-2
E-invoice: 00370112650206
PDF-bills: laskut.yit_oyj@bscs.basware.com
Paper bills: PL 36 00621 HELSINKI
Contact person: Annika Hannuksela

YIT Rakennus Oy
Business ID: 1565583-5
Further billing addresses: YIT RAKENNUS OY
Contact person: Heli Hietala
For YIT Rakennus Oy bills:
Bills must be issued to YIT Rakennus according to the address listing.
The bill should include information stating the YIT project number and the cost centre in its own separate section.
Do not send any other documents with the bills and their attachments!
YIT CONSTRUCTION LTD E-INVOICING ADDRESSES (FINLAND)

YIT Kuntatekniikka Oy
Business ID: 2218454-1
E-invoice: 003722184541
PDF-bills: laskut.yit_kuntatekniikka@bscs.basware.com
Paper bills: Insinöörinkatu 6 50150 MIKKELI
Contact person: Päivi Turmola
YIT Kalusto Oy
Business ID: 0895915-2
E-invoice: 00370895915229
PDF-bills: laskut.yit_kalusto@bscs.basware.com
Paper bills: Yhteiskouluntie 11 31700 URJALA as
Contact person: Päivi Torkko-Piironen
YIT Information Services Oy
Business ID: 0421755-7
E-invoice: 00370421755727
PDF-bills: laskut.yit_yis@bscs.basware.com
Paper bills: PL 36 00621 HELSINKI
Contact person: Satu Stirkkinen