YIT creates sustainable cities and better living environment by developing and constructing housing, business premises, infrastructure and entire areas. We focus on providing a first-class customer experience, high quality and continuous development of our diverse expertise. Our operating area covers Finland, Russia, the Baltic countries, the Czech Republic, Slovakia and Poland.
Why invest in YIT?
Strong market position
Market leader in Finland, biggest foreign residential developer in Russia and one of the top players in CEE.

Excellent market knowledge and experience
Over 100 years' experience in Finland and over 50 years' experience in Russia.

Good track record
One of the most profitable construction companies in Europe throughout the business cycle, clearly the most profitable in Finland.

Firm dividend payer
Dividend payout target 40-60% of net profit for the period.

Solid corporate governance
and high ethical standards in all operating countries.

Long-term trends and drivers providing growth opportunities
Migration and urbanisation in all markets and poor quality of existing stock in Russia and CEE create demand for new apartments.
Revenue and operating profit in 2016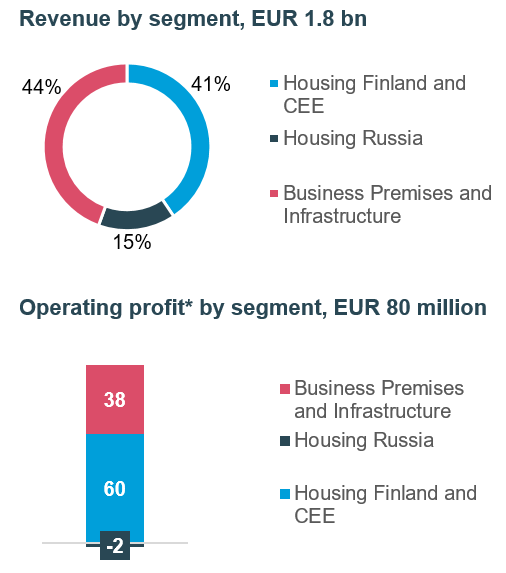 Revenue and operating profit development of construction business 2000-2016

Note: Segment level figures (POC), i.e. sum of Construction Services related segment figures in YIT financial reporting and thus excluding effect of other items.