Market development in January-December 2016
Consumer confidence picked up in 2016 in Finland, which was also seen as an improvement in residential demand in the consumer segment. Demand focused especially on small, affordable apartments in growth centres. Towards the end of the year, a slight pick-up could be seen in the demand for larger apartments. Investor demand remained on a good level.
Economy remained solid in the CEE countries, and consumer confidence remained on a good level. Residential prices stayed stable on average and demand on a good level.
Mortgage interest rates were on a low level in all operating countries and the availability of financing was good. In Finland, new drawdowns of mortgages increased year-on-year.
Finland

Sources: Statistics Finland and Bank of Finland
CEE

Sources: European Commission, Eurostat and National Central Banks
The uncertainty of Russian economy continued to be reflected in the residential market, although stabilisation of the situation was seen during the summer. Demand focused especially on small apartments, consumers preferring projects with high completion rate.
Residential prices remained stable on average. Consumer confidence stayed at low levels and growth in real wages was weak.
The state mortgage subsidy program for new apartments ran until the end of 2016. The mortgage interest rates for new apartments were on a level of around 12%.

Sources: Bloomberg, YIT and Central Bank of Russia
Business Premises and Infrastructure
The construction of business premises and infrastructure was brisk in 2016 and new projects were started actively.
During the review period, investors' interest towards projects in prime locations was on a good level in the Finnish business premises market, but the competition over tenants remained intense. Investors' yield requirements and rental levels remained stable. The contracting market was active and several large projects were in the tendering phase.
In the Baltic countries and Slovakia, rental levels for business premises and investors' yield requirements remained stable in the review period. The contracting market was most active in Slovakia and most quiet in Latvia.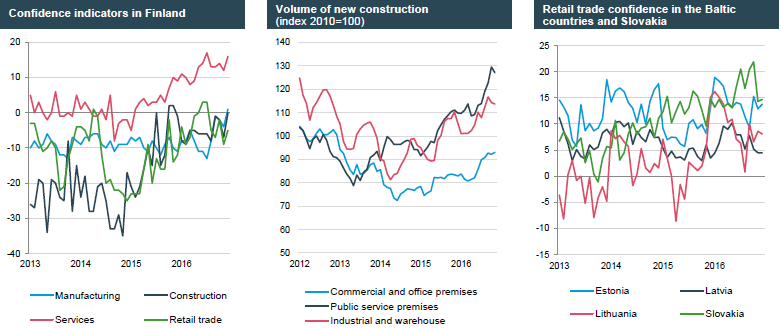 Sources: EK Confederation of Finnish Industries, Statistics Finland and European Commission