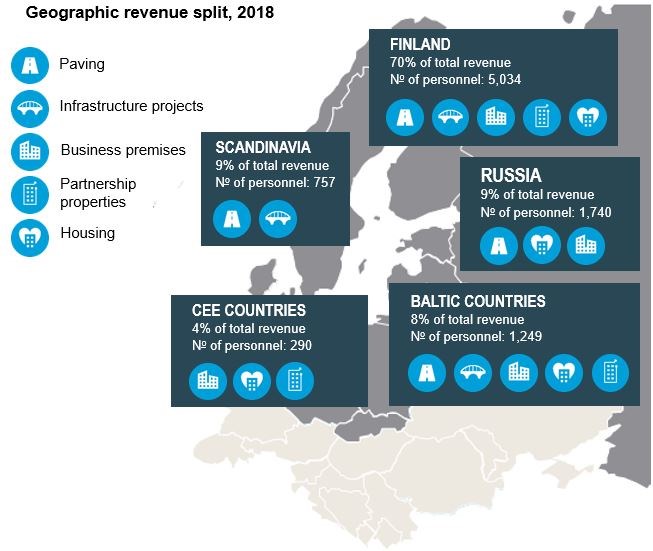 Short-term outlook by region
As published in the Interim Report January-March 2019
Finland
Consumer and institutional investor demand for apartments is expected to remain stable, at the autumn 2018 level. Activity among private residential investors is expected to be lower than in the previous years. Location and the price level continue to play a key role.
The divergent development of apartment prices and demand between growth centres and the rest of Finland is expected to continue. The increased supply of apartments is anticipated to prevent the rise of housing prices.
The rental demand for business premises is expected to remain on a good level in growth centres. Activity among property investors is expected to remain at a good level, particularly for centrally located projects in the Helsinki metropolitan area and in major growth centres. The contracting market is expected to remain active.
Renovation is expected to grow moderately due to increasing urbanisation and aging of building stock.
High construction activity has led to increased competition for skilled professionals. Construction costs are estimated to increase slightly. Construction volume is expected to remain at a good level.
The increased regulation and higher capital requirements imposed on financial institutions affect construction and property development.
Infrastructure construction is expected to decline in from the year 2018 level. The state's investments in basic road maintenance are expected to decline significantly for paving in 2019 increasing the maintenance backlog of the road network. The government is cutting down the allowances for infrastructure projects for the coming years, which weakens the outlook for paving and infrastructure projects. Demand for infra projects is maintained by complex infrastructure projects in urban growth centres as well as transport projects and industrial investments.
Russia
Also in Russia, the geopolitical tension impacts the general market situation. The demand for apartments is expected to remain at the same level as seen on average in 2018. Residential price levels are expected to remain low.
Changes in regulation concerning the housing market are expected to maintain volatility in supply and sales practices. Regulatory changes might cause delay in banks' project financing abilities and cause uncertainty and turbulence in the market. Demand is expected to focus primarily on affordable apartments. Inflation in construction costs is expected to grow moderately due to changes in value added tax.
Construction and repair projects on major roads are expected to maintain demand for paving.
The Baltic countries and CEE countries
Residential demand is expected to remain at a good level. Residential prices are estimated to increase further. The prices of plots have increased and competition for plots is expected to remain intense. The availability of financing and low interest rates are expected to continue to support residential demand. The shortage of resources is expected to continue to increase inflation in construction costs and to limit volume growth. The contracting market for business premises is expected to remain at the current level or decrease slightly in the Baltic countries.
In the Baltic countries, the volume of infrastructure construction is expected to continue to grow due to the states' investments in improving urban and transport infrastructure.
Scandinavia
In Norway and Sweden, infrastructure construction is boosted by multi-year, state-funded traffic infrastructure development programmes and urbanisation. In both countries, infrastructure construction is expected to grow in 2019. Large-scale road and railway projects are ongoing or planned in Sweden and Norway, which will increase demand for infrastructure projects and paving. In addition, especially Norway is investing in the development and renewal of energy production.
In Denmark, demand for paving declined in 2018 as public investments in road infrastructure were decreased, and it is estimated to continue on stable level.
YIT operates in 11 countries: Finland, Russia, Scandinavia, the Baltic States, the Czech Republic, Slovakia and Poland.
In Finland, we are the largest residential developer and one of the biggest business premises and infrastructure constructors.
In Russia, we are the largest foreign residential developer and one of the top operators in the CEE countries, except for Poland, where the operations have just been launched.
As of February 1, 2018, YIT's six reportable segments are Housing Finland and CEE, Housing Russia, Business premises, Infrastructure projects, Paving as well as Partnership properties.