What is the phase of the construction cycle in Finland compared to Sweden? Is the current construction volume in Finland sustainable in view of demand? Why have you not started more projects in Finland – is it a sign of something?
The construction volume and the rise in the prices of construction plots and apartments in Sweden, especially in Stockholm, have been in the headlines in recent times. According to statistics, a falling trend can be seen in apartment sales and prices in Stockholm. There have been signs of a fear of a housing bubble or its breaking. This has aroused concern among investors, and especially foreign investors have been asking about the situation in Finland. The situation in Sweden and Finland has been quite different for some time: the economy, zoning, population growth and many other factors have not gone hand in hand. However, the sense of nervousness also affects the construction sector in Finland, as many investors perceive the Nordic countries as a one single cluster. Yet YIT has no operations in Sweden and neither does Lemminkäinen build houses in Sweden.
The apartment construction volume in Finland has been higher this year than in the last few years. During the recession, construction volumes did not meet demand, so the current construction pace can be considered an adjustment supported by keen consumer demand. People are moving to the Helsinki metropolitan area and growth centres, and urbanisation is expected to continue. According to many surveys, Finland lags behind the other Nordic countries in terms of urbanisation, and the trend is not expected to slow down. The right location and price, demand-matched size and floor plan, services, public transport connections and many other criteria will never be out of fashion.
As to our project start-up volumes in Finland in July–September, we must say that quarters are not always identical or plans proceed in a linear fashion. The past quarter does not reflect any intentional slow down: we just managed to launch somewhat fewer projects than earlier due to timing. We have already announced many project start-ups, and good consumer demand will continue to support our start-up plans in the future.
The merger between YIT and Lemminkäinen is getting closer. We received the approvals of the extraordinary general meetings of both the companies in September and official permits from our other operating countries. We are now waiting for the final opinion of the Finnish Competition and Consumer Authority, which we expect to receive during this year. We are to preparing to merge into a single YIT, within the legal limits, the end of the year.
CHANGE IN YIT'S SALES MIX IN FINLAND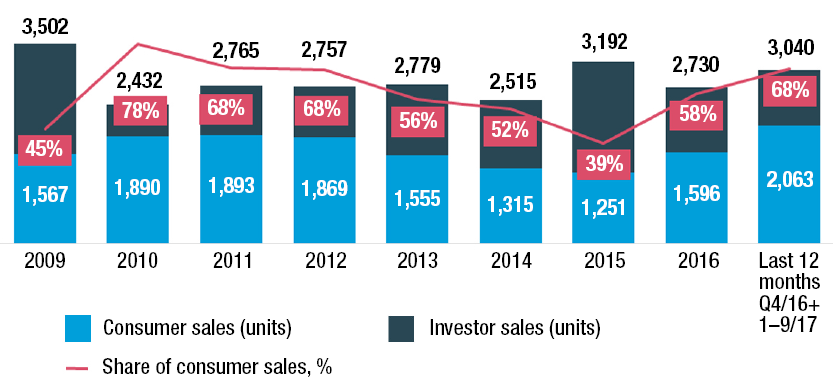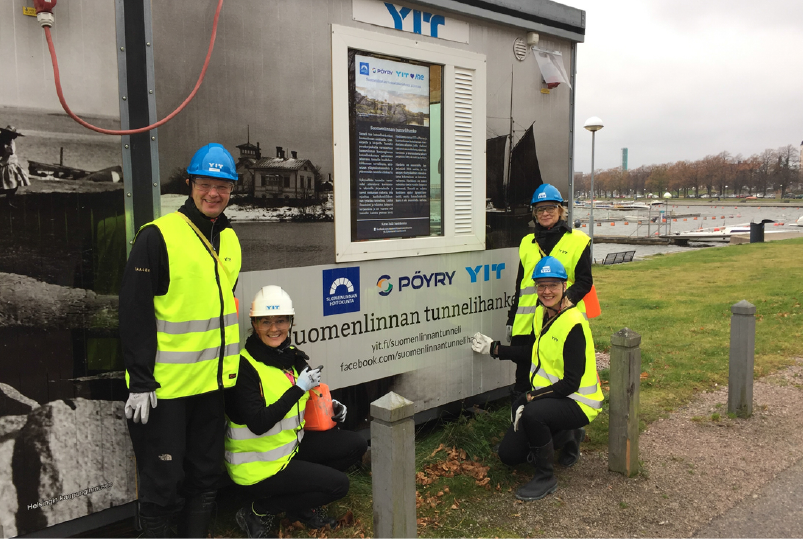 NOTICE TO LEMMINKÄINEN SHAREHOLDERS IN THE UNITED STATES
The YIT shares to be issued in connection with the merger have not been registered under the U.S. Securities Act of 1933, as amended (the "Securities Act") and are being issued in reliance on the exemption from registration set forth in Rule 802 under the Securities Act.
YIT and Lemminkäinen are Finnish companies and the issuance of YIT shares will be subject to procedural and disclosure requirements in Finland that may be different from those of the United States. Any financial statements or other financial information included on this website may
have been prepared in accordance with non-U.S. accounting standards that may not be comparable to the financial statements of U.S. companies or companies whose financial statements are prepared in accordance with generally accepted accounting principles in the United States.
It may be difficult for U.S. shareholders of Lemminkäinen to enforce their rights and any claims they may have arising under U.S. federal securities laws in connection with the merger, since YIT and Lemminkäinen are located in non-U.S. jurisdictions, and some or all of YIT's and Lemminkäinen's officers and directors may be residents of countries other than the United States. As a result, U.S. shareholders of Lemminkäinen may not be able to sue YIT or Lemminkäinen or their respective officers and directors in a court in Finland for violations of U.S. federal securities
laws. Further, it may be difficult to compel YIT or Lemminkäinen to subject themselves to the jurisdiction or judgment of a U.S. court.
Lemminkäinen's shareholders should be aware that YIT may purchase Lemminkäinen's shares otherwise than under the merger, such as in open market or privately negotiated purchases, at any time during the pendency of the proposed merger.
DO YOU HAVE ANY QUESTIONS?
PLEASE CONTACT US!
InvestorRelations(at)yit.fi
Hanna Jaakkola
Maija Honkanen
Ella Malm