Career Story

6/25/2019
252 views
Oodi construction site raised Essi a creative sector professional
For Essi Tuomenoja, who arrived at the construction site of the Helsinki Central Library Oodi as a trainee and left as a supervisor, the construction sector is the most creative of all sectors.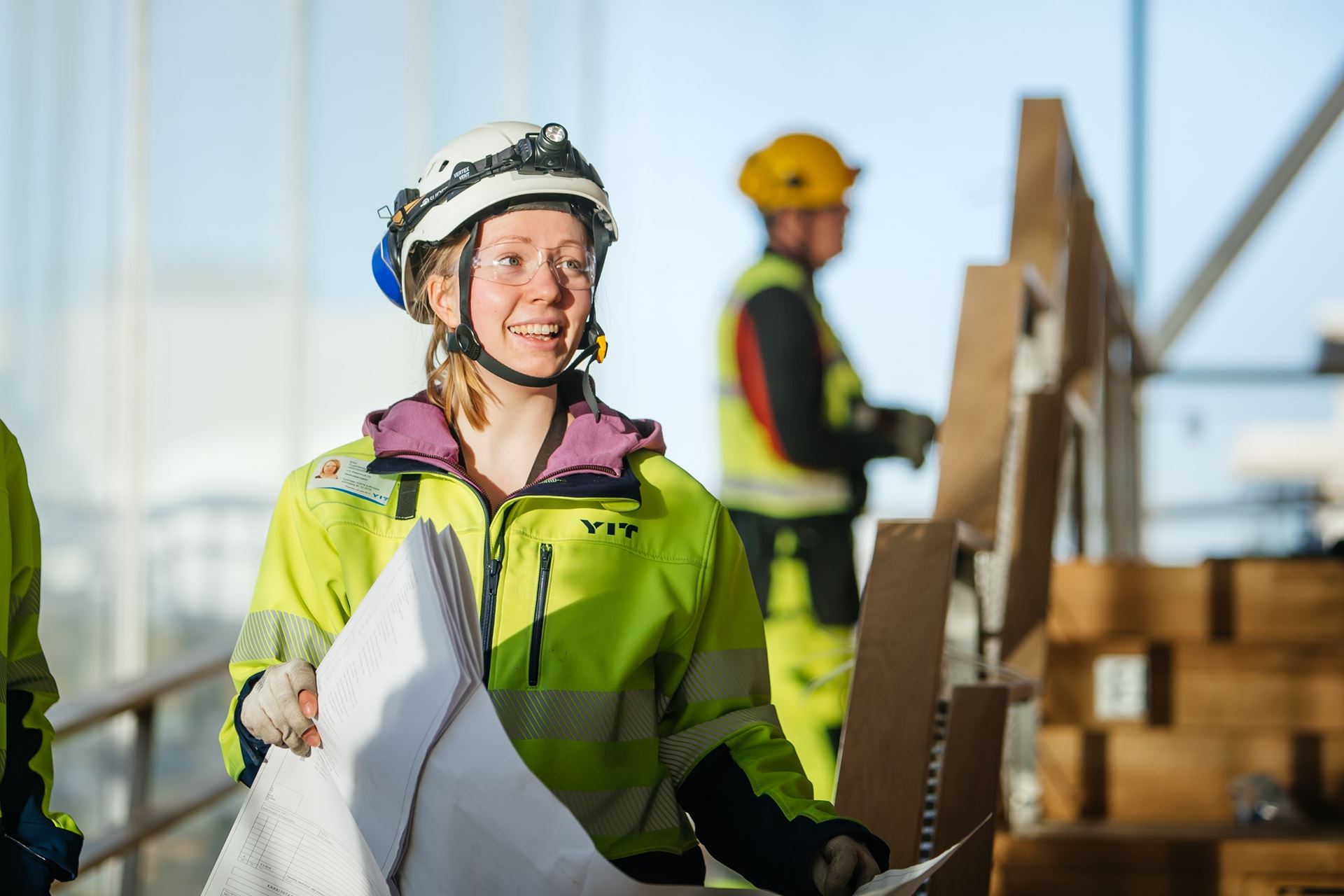 Located at the heart of Helsinki on Kansalaistori square, the Helsinki Central Library Oodi, which opened its doors to the public last December, has already proven to be a success: the citizens' new, award-winning living room has received praise from all quarters. For its builders, Oodi was also a one-of-a-kind project. The library received the challenging construction requirement category AA, because the architects had designed many original, almost unique solutions for the building.
Almost right from the start, the site adopted the Big Room operating model, which brought all of the professionals working on the project around the same table each week to find solutions to different technical construction problems. The work also involved many young future construction professionals for whom the Oodi site offered a veritable master class in construction work.
"Oodi is a wonderful inheritance to leave for future generations. It's been great to see how people have embraced the building," says YIT supervisor Essi Tuomenoja, 24, who arrived at the Oodi site in May 2017 as a supervisor trainee and left it in February 2019 as a supervisor with solid experience of the demanding work of an area manager.
Dreams of becoming supervisor of similar large site
Essi Tuomenoja's career at YIT started already before Oodi at the Shopping Centre Dixi site in Tikkurila in 2016, where she arrived as a supervisor trainee. Essi is full of praise for her tutor who took her "everywhere" and handed her gradually more and more responsibility.
"I also really enjoyed YIT's internal trainee meetings where I got to meet other young people and got a much better idea of YIT as a whole than I would have had I only stayed at my own site."
After middle school, Tuomenoja started her studies in construction at a vocational school where she studied for a basic degree in construction parallel with her secondary-school graduation exam. After vocational school, she continued with her Master Builder studies at a university of applied sciences.
"I am really happy with my career path. A particular highlight is that I got a summer job as a 'blue collar trainee' during my time at the vocational school. That work experience has been a massive help in my job as a supervisor."
For Essi, the construction sector is a calling. She decided on it already during primary school.
"When young people say that they want to work in a creative sector, I always think that this is the most creative sector of them all. For example, at Oodi we got to think how to implement the architects' vision, such as curving walls and large curving glass windows. I love solving puzzles," she continues.
Essi Tuomenoja has a dream. One day, she would like to work as a site manager of a large site.
"I feel that I have grown much more as a person as well as professionally than you would expect in the 1.5 years I spent at the Oodi site," says Essi.