Career Story

8/3/2019
185 views
Long career to infrastructure engineering
Petri Saarinen has come a long way at YIT, from Foreman to Vice President of Structural Engineering. Saarinen still considers himself a relative newcomer to infrastructure engineering. He enjoys open collaboration with customers on projects, as that makes success taste even sweeter.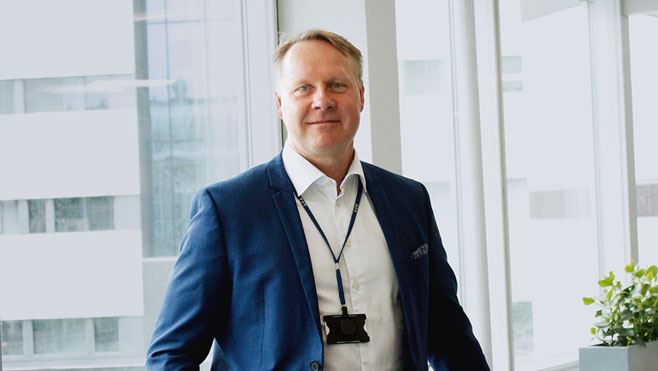 Petri Saarinen joined YIT as a summer foreman at the Malmi Soidintie construction site in 1990. On Saturdays the following autumn and winter, he took time out of his studies to keep tabs on the wood boarding work at the construction site of the company's current head office. After graduation, he spent most of his summer on the roof of the head office.
His long career at YIT has included not only the construction of commercial properties, but also residential construction, rock engineering and his current position in infrastructure engineering.
"The best thing about the infrastructure business is that it is so broad and diverse. People might think that infrastructure engineering is about digging holes in the ground — if you allow me to embellish just a little bit — but we actually build all kinds of things, from water towers to rail infrastructure and underground tunnels," Petri Saarinen says.
Decades-long careers are nothing unusual at YIT, and the size of the organisation means there are plenty of opportunities for professional development and trying different kinds of jobs. Saarinen has never felt the need to change his employer. His career progression within the company has brought changes when he has been ready for them.
"I have stayed here because I feel a sense of pride at being a YIT employee. On top of that, the management style here has always been communicative and close to the action, and this holds true even now that we are a larger and more international company. These qualities are also reflected in our values, which I feel are very genuine," Saarinen adds.
From the roof of the head office down to the third floor
Saarinen's journey continued from the roof of the head office to the construction site of the round car park building in front of Helsinki Airport, where he was the site foreman. He then went over to Ruoholahti for the construction of 171 apartments before returning to the airport to build the central terminal and air traffic control tower. In 1997, he was promoted to Site Manager.
"I got a kick out of being in charge of things on site. We worked on some major projects, like the LocalTapiola head office and the offices of the Finnish Meteorological Institute and the Finnish Institute of Marine Research. Those were fascinating and sufficiently challenging projects. Many of the people involved in them are still with the company," Saarinen recalls.
As 2014 rolled around, Saarinen had been thinking that a change would do him good. That change came in the form of the role of construction manager in infrastructure engineering. After about a year in that position, he was promoted to head of construction management. After another year, he was appointed Vice President of rock engineering and later moved to infrastructure engineering.
"My career has been on an upward trajectory since I came to the head office in Käpylä, but I've never consciously sought that. Each promotion has come as a surprise to me. I suppose the way I do my job has played some role in all that," Saarinen muses.
While his familiarity with infrastructure engineering has increased during the past few years, he still considers himself a relative newcomer to the business.
"It was a very cool and educational experience to take up the post of Vice President in rock engineering. It was a new field to me, albeit one that I had been watching from the sidelines. Being new to the field meant I could really be myself and be humble enough to recognise that my subordinates often knew things better than I did. During the year I spent there, everyone had the opportunity to develop their skills, challenge themselves and be at the forefront of things because I didn't have all the answers. Jumping out of your comfort zone is definitely a good idea if you get the chance to do it," Saarinen explains.
One experience during that year that Petri Saarinen remembers very fondly is the week he spent at the Töölönkatu car park construction site.
"I was as excited as a little boy to get my boots in the mud and ride on the machines. Being on site to see everything with my own eyes gave me a much better understanding of the project. It's something that should be added to every manager's calendar," Saarinen says with a smile.
The best part of his current job is looking towards the future and developing a young and highly competent team. Indeed, Saarinen has played a role in the early stages of many career paths at YIT.
"We have very nice energy on our team and I enjoy being in the background, helping talented young professionals forge ahead. I often wonder what they might find themselves doing a few years down the road. My job is to look towards the future," Saarinen adds.
The customer has become a partner
The customer wasn't always the central focus of operations in the construction industry but, these days, projects are all about open collaboration.
"Fortunately we have recognised that the customer is another human being who wants to buy something from us. We don't draw a line between ourselves and the customer anymore," says Vice President Petri Saarinen.
There's nothing better than achieving success together with the customer. Saarinen is full of praise for the new forms of contracting, such as the alliance model and cooperative methods.
"I like how today's negotiations and the big room method are focused on genuinely collaborative planning and design. The Myllypuro multipurpose ice sports arena in Helsinki is a good example. We are working closely together with the Finnish Speed Skating Association and the Finnish Figure Skating Association on that project. Everyone is driven by a common desire to achieve success, and the bigger the group involved, the bigger the sense of achievement," Saarinen explains with enthusiasm.
One turning point in Saarinen's thinking was a past incident in which he drove the other negotiation participants into a corner with just a few words.
"I really felt bad afterwards. When I was driving home that day, I thought about how the need to be more right than others only consumes time and energy that could be directed towards finding a solution. Together we would have achieved a successful outcome faster and we would have been right together. But I'm glad I had that experience and learned from it," Saarinen says.
This feeling was later strengthened by the Suomenlinna service tunnel contract, which saw YIT work closely together with the Governing Body of Suomenlinna.
"That was a project characterised by genuine cooperation, careful preparation and being open with each other. Taking time to think about the best possible solutions before making decisions is an approach that all projects can benefit from," Saarinen adds.
In recent years, people representing various academic backgrounds have joined the construction industry. Saarinen believes this can be a source of added value for the customer.
"Thinking about things differently, outside the box of traditional engineering, can only be a good thing. I'm glad we have had the good sense here to recruit people with diverse backgrounds. Being able to find expert assistance inside the organisation on a wide range of issues is a major strength," says Saarinen, summarising what it is like to work at YIT these days.