Merger of YIT and Lemminkäinen
YIT and Lemminkäinen MERGED on February 1, 2018
The Boards of Directors of YIT Corporation and Lemminkäinen Corporation decided on January 31, 2018, to complete the merger of Lemminkäinen and YIT in accordance with the merger plan signed on June 19, 2017. The merger has been entered into the Trade Register and took effect on February 1, 2018.
The combination will create a financially strong company with urban development as the engine for growth and profitability. The companies' business areas will complement and balance each other and decrease sensitivity to economic cycles.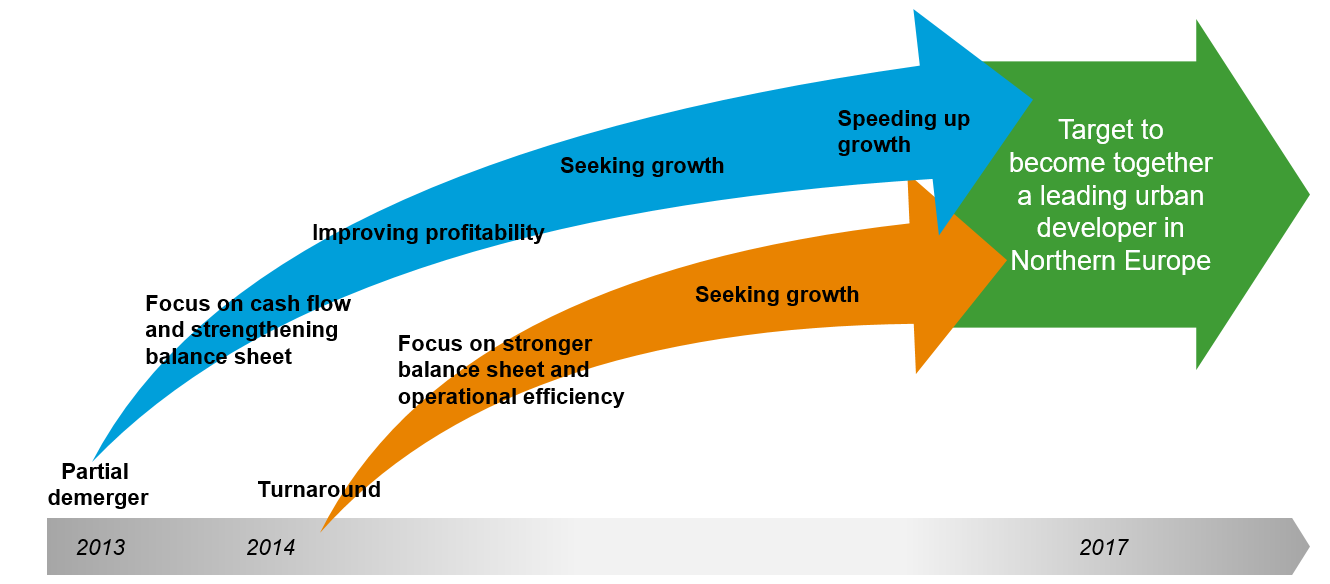 The combination is expected to create significant value for the shareholders of the combined company through decreased sensitivity to economic cycles and improved competitiveness providing a strong platform for growth.
In connection with its January-March 2018, YIT has adjusted its estimate on the total amount and timing of the synergy benefits of the merger. YIT estimates that the total synergies are larger and they will be achieved sooner than earlier announced. The company estimates the total annual synergies related to the merger to have an impact of EUR 40-50 million million by the end of 2020. Of this, EUR 40 million is expected to be achieved starting from the first quarter 2020. Previously the company estimated the annual total synergies to be EUR 40 million, and they were estimated to be reached in full by the end of 2020.
The combination was implemented as a statutory absorption merger whereby Lemminkäinen will be merged into YIT.

The Extraordinary General Meetings (each, an "EGM") of YIT and Lemminkäinen held on September 12, 2017 approved the merger. The Finnish Competition and Consumer Authority (the "FCCA") announced on January 16, 2018 that it will approve the merger between YIT and Lemminkäinen as such. The FCCA has on January 26, 2018, given its final approval decision for the merger.
The preliminary long-term financial targets of the combined company will be return on capital employed (ROCE) of more than 12 percent, equity ratio above 40 percent, positive cash flow after dividends as well as annually growing dividend per share.
Stock Exchange Releases
February 1, 2018
YIT Corporation's Board of Directors holds its organisational meeting, Group Management Team and Deputy CEO appointed
YIT announces the Group's new segment structure and reporting practice
YIT's Board of Directors confirms outlook and the most significant short-term business risks
January 31, 2018
YIT and Lemminkäinen will complete the merger
January 26, 2018
The FCCA has given the final approval decision for the merger of YIT and Lemminkäinen, which is intended to be completed on February 1, 2018
January 16, 2018
The FCCA will approve the merger of YIT and Lemminkäinen unconditionally and it will likely be completed on February 1, 2018
December 13, 2017
The Finnish Competition and Consumer Authority has been granted an extension until January 26, 2018 to investigate the merger of YIT and Lemminkäinen
December 11, 2017
The Finnish Competition and Consumer Authority applies for an extension for investigating the merger of YIT Corporation and Lemminkäinen Corporation
October 9, 2017
PEAB divested its holdings in Lemminkäinen: YIT no longer obliged to redeem shares
September 28, 2017
The Finnish Competition and Consumer Authority initiates further proceedings concerning the combination of YIT and Lemminkäinen
September 12, 2017
Resolutions passed at the Extraordinary General Meeting of YIT Corporation
The Extraordinary General Meeting of Lemminkäinen Corporation approved the merger of Lemminkäinen Corporation into YIT Corporation
September 7, 2017
YIT Corporation: Supplement to the Merger Prospectus
August 24, 2017
The FIN-FSA has approved YIT's and Lemminkäinen's merger prospectus and granted exemption from the obligation to publish listing prospectus
July 27, 2017
Notice to YIT Corporation's Extraordinary General Meeting
June 19, 2017
YIT and Lemminkäinen to combine
PRESENTATIONS
Extraordinary General Meeting, September 12, 2017
Merger announcement, June 19, 2017
Timetable
2017
June 19: Announcement
August 25: Publication of merger prospectus
September 12: Extraordinary General Meetings of Both companies
2018
(Voluntary pro forma information will be given before Q1 results)
February 1: Merger completed
March 16: Annual General Meeting
March 20: Lemminkäinen final accounts
April 11: Lemminkäinen shareholders' meeting
April 26: Interim Report January-March 2018