London, Paris, Lisbon, Helsinki city centre, Käpylä, Käpylä, Käpylä. YIT has been actively meeting with investors at various events this March. The meetings follow the same track no matter where they're held: either the question-answer style, or the strategy-operating environment-segments-balance sheet /financialas-outlooks style. The first of these styles sticks to the same themes, unless the investor has some favourite subject, such as Smartti, Tripla, or Russia.
Aren't there any signs of recovery there in Russia yet? Are you expecting an increase in housing sales in Russia? From YIT's viewpoint, a significant turn for the better has at least not yet happened. Consumer purchasing power continues to be weak, and the tough years have shrunk the number of potential consumers for comfort-class and business-class homes. The mortgage subsidy programme ended at the end of the year. So people considering taking out a mortgage are apparently waiting for a drop in interest rates, possibly helped along by a drop in the Russian Central Bank's key interest rate. The first quarter, then, is not going to be strong in Russia. However, YIT has a good reputation in Russia, a strong brand there, and customers can rely on our projects being built as planned and on schedule. This is essential for continual residential sales.
Russia is always a conversation topic – both when its share of revenue has been significant or when it's around 15%, like it is now. It's important to remember that the goal is to release capital around 6 billion roubles (around EUR 100 million at the current exchange rate) over the next two years, and to reallocate capital to in Finnish growth centres and in Central Eastern Europe.
In Finland, the entry of new operators to the markets has been quick, and has gotten plenty of attention. Here in Finland especially, people are asking about the operating methods and products of the fellow builders. Everyone can answer for their own behalf, but it's clear that the new operators are challenging the older players and reshaping the market. New thinking is welcome and has an important role in many processes, among them in YIT's renewed strategy process, together with the changed demand and strengthening trends (including e.g. digitalisation, urbanisation, demographic changes). YIT's natural strengths and competitive advantage? The core of it is found in how we make full use of wide-ranging construction expertise and a longer value chain in urban design.
DIVIDEND PER SHARE, EUR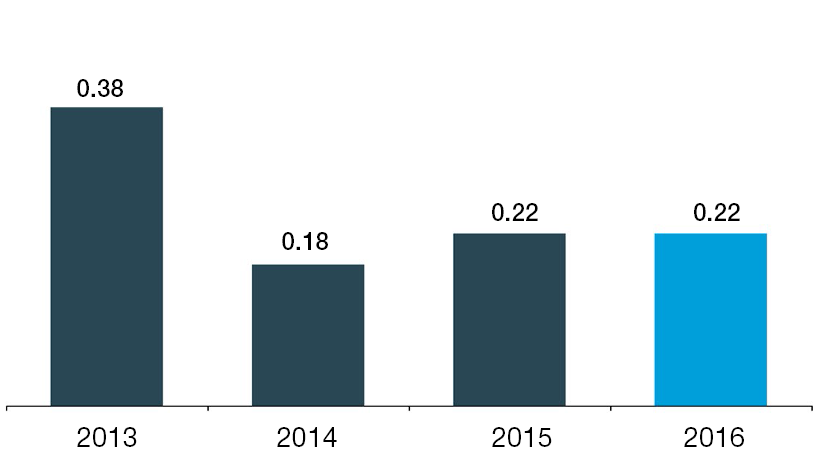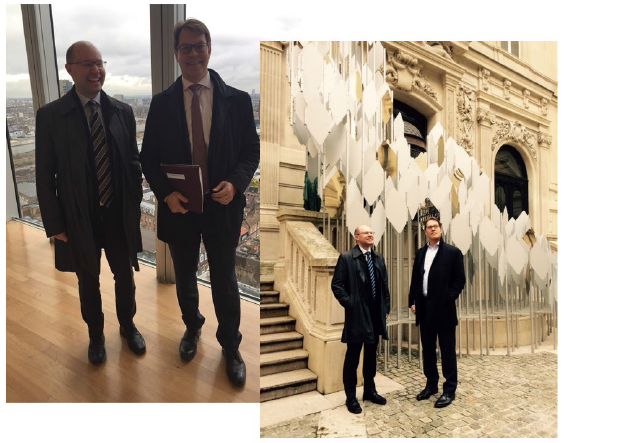 President and CEO Kari Kauniskangas and CFO Esa Neuvonen on a roadshow in London and Paris.
FAQs
What is capital efficiency at YIT?
One good example of innovative thinking is YCE Housing I, a fund that invests in the CEE region.
The idea is to bring in new financing to projects that are at the construction phase, and to free up capital for other projects that are at an earlier stage of development. The first projects are already in this new fund, and in the next few years, it's expected to complete over ten projects and around one thousand apartments. The apartments will primarily be sold to private home buyers.
The investors in the fund are YIT (40%), the Mutual Pension Insurance Company Etera (30%), and a group of Finnish private investment companies. The fund's own capital is around EUR 37 million, and it is managed by Vicus Capital Advisors Oy. The fund can also take out direct loans. YIT is not only the fund's part-owner, but also its main contractor and is responsible for selling the apartments (for a commission, of course). From a profit standpoint, the model is slightly less profitable than YIT's traditional model, but from an ROI standpoint it's clearly better.
FINANCIAL TARGETS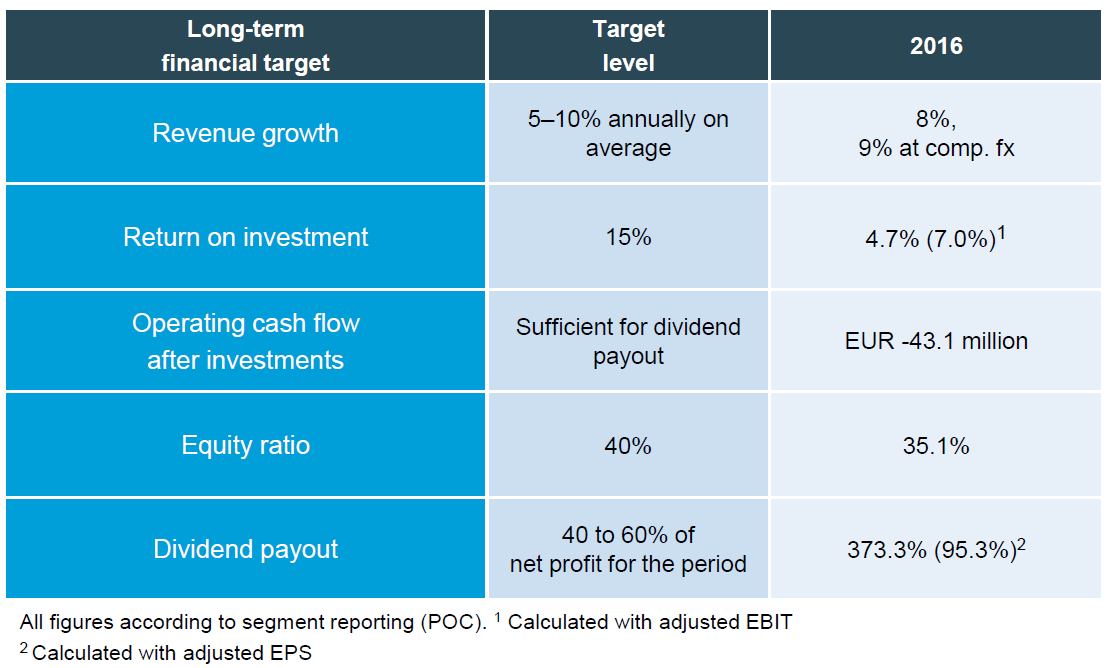 DO YOU HAVE ANY QUESTIONS?
PLEASE CONTACT US!
InvestorRelations(at)yit.fi
Hanna Jaakkola
Iida Lähdemäki
Maija Honkanen