Debt structure and maturity profile
Construction stage financing
Financing of construction in a typical residential development project in Finland:
YIT's subsidiary YIT Construction sells the contract receivables from Housing corporations (also owned by YIT) to financial institutions
The receivables are due upon completion
Sold in line with the progress of the project
Customers' down payments 15% of value
» Financing for construction
Limited refinancing risk:
Sold receivables are included in current borrowings as they are linked to current assets. However, there is limited refinancing risk:

Upon completion, Housing corporations pay for the construction by drawing housing corporation loans
50-70% loan-to-value
+20 year maturities
The terms and conditions are agreed upon already when starting construction

Customers pay the rest of the sales price
» Refinancing of the sold receivables
After completion the unsold apartments are in YIT's balance sheet as shares in housing corporations. Their share in the housing corporation loans is included in current borrowings as the loans are linked to current assets.
During construction: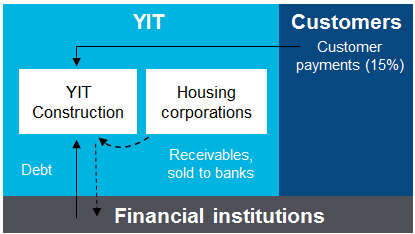 Upon completion: