Sustainability in our own operations
The impact of our own operations towards our stakeholders is fairly small compared to the impact of our products and services. However, it is important for us that our own operations develop continuously and that we do not cause any harm for any of our stakeholders.
Below you can find information of different aspects of sustainability in our own operations.
YIT's mission, vision and values are the foundation of our operations and ways of working. We are committed to long-term business success, which means that we do not pursue a good financial result at any cost. In order to achieve business success, we must respect our stakeholders and create value for all of them, including customers, shareholders and employees.

YIT's business principles are a concrete expression of what compliance with our values means in our work with different stakeholders. The business principles are not meant to be a detailed guide that provides an answer to every question, but rather a general guideline that demonstrates the way we want to conduct business. The document includes the principles that guide our operations in relation to customers, employees, shareholders, business partners, competitors, society and the environment. You will also find information related to compliance with our business principles and reporting infringements.

Every YIT employee is expected to live up to the business principles at all times.
Suspected misconducts investigated without delay
We expect every employee at YIT to report to their immediate superior if they suspect a breach of the company's business principles. In addition, all countries where YIT operates have appointed persons in charge of ethics who escalate the processing of reported misconduct.
For already years we have also been using a reporting channel maintained by a third party, allowing our employees to report confidentially, and, if necessary, anonymously any suspected misconduct. A report can be submitted online or by telephone in 15 languages. Each suspected misconduct will be investigated carefully and without delay, and will lead to appropriate action.
Examples of the content of the YIT Business Principles:
The marketing of our products and services is always truthful and accurate.
Every employee has the right to a safe working environment and so we strongly concentrate on excellence in occupational safety.
We do not use or disclose insider information in a prohibited way.
We do not exercise or tolerate any form of corruption, extortion or bribery and we are committed to working against these practices.
YIT supports open and fair competition in all markets.
We do not make financial contributions to political parties or groups or individual politicians.
YIT Business Principles are available here for download in English and Finnish:
Competence and well-being of personnel
Our operating environment changes constantly, and training and coaching are an integral component of our personnel development. Our expertise plays a crucial role not only in traditional construction, but also in large-scale projects that require co-operation between different areas of construction and bring together employees from several different companies, such as the Tripla project in Pasila, the Hamina–Vaalimaa motorway contract, and the Tampere light rail and Naantali CHP plant alliance projects.
Our training programme A step ahead in project management improves the project competence of our personnel as well as co-operation between different units and tasks. The YIT Special Forces training supports the strong development of quality and productivity, with a focus on co-operation, advance planning and the sharing of best practices.
We offer managerial training at four levels: Mentor, Challenger, Partner and Inspirator. The training programmes cover areas ranging from practical supervisory skills to mentoring and the creation of an organisation that has the capacity to create added value. Training is also provided in English and Russian to managers from the Group's operating countries.
Long-term work with students
Becoming a construction industry professional takes more than just sitting at a desk in school. Recognising this, we offer some 700 trainee positions and summer jobs to young people each year. The YIT Path training programme gives students the opportunity to acquire valuable practical expertise at a rate that matches the progress of their studies. We focus on comprehensive introductory training, communicating our values, way of working and competencies as well as safety for trainees.
In addition to our active co-operation with educational institutions, we share the extensive experience of our project personnel with students at universities of applied sciences via the YIT Studies programme, which students can earn academic credit for. We also want to promote the construction industry as a career choice in a broader sense. Launched in the autumn, the YIT Junior pilot programme gives young people who are in the familiarisation with working life (TET) period in upper comprehensive school the opportunity to join professionals to become familiar with the entire construction process, from planning to sales.
Our employees are highly engaged and happy with leadership
We want to regularly hear about the well-being of our personnel, about how motivated and committed they are to their work, and how encouraging our leadership is. Our goal is to make sure that YIT continues to be a great place to work also in the future – one where people feel happy, and do their work with passion. One of our development tools is our personnel survey, YIT Voice, which is organized annually in all the countries in which we operate.
In 2017 89% of our personnel completed the survey. Based on the results, engagement has developed favorably from 82% in 2016 to 86% in 2017. Employees are overall satisfied with YIT as an employer, and 86% of them would recommend YIT as a great place to work. Leadership is perceived to be on a high level (Leadership index 2017: 83%), especially appreciating superiors' support and care for wellbeing.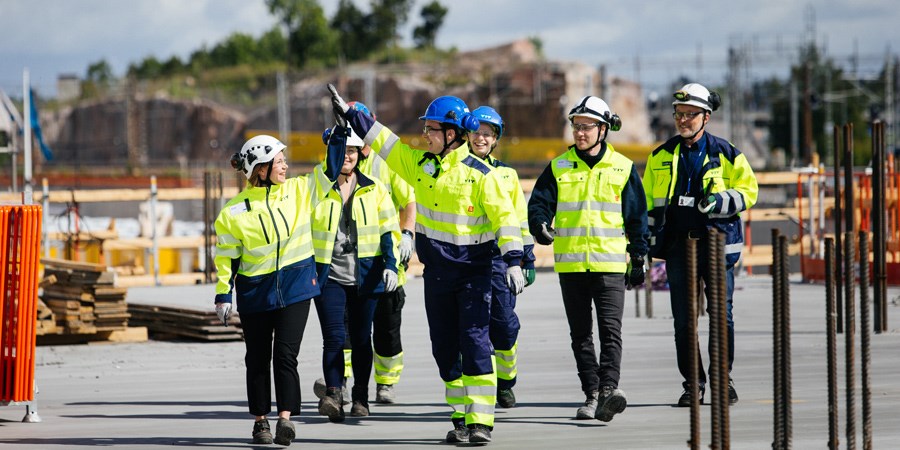 We want to offer a safe workplace where work involves no danger
All our employees are encouraged to pay particular attention to safety matters, as our aim is an accident-free workplace. We aim to prevent workplace injuries and musculoskeletal ailments, in particular through various activities promoting the ability to work. We work hard so that in the future all the occupational accidents could be avoided.
Harmonised rules to improve occupational safety are followed throughout the Group
Our employees receive on-the-job orientation to safety aspects and risks at all of our sites.In addition, safety-related trainings are organised.
We require strict compliance with safety rules and use of personal protective equipment from both our employees and subcontractors.
We compose safety plans for all of our sites: Risks and dangers are assessed and actions taken to decrease the risks.
We monitor occupational safety and measure the safety of the sites on a weekly basis
Any shortcomings in occupational safety are addressed without delay.
We share best practices and promote the right kind of safety culture and attitudes.
Development of occupational safety followed regularly
Occupational safety-related matters are regularly reviewed in Group and business segment management team meetings and in Board of Directors' meetings. In addition, our management regularly visits our work sites.

At YIT, occupational safety issues are followed as regularly as financial figures. We monitor the development of occupational safety in our business segments on a monthly basis and publish the results internally. Lost Time Injury Frequency (LTIF) is the number of reportable accidents at work per million working hours. In 2017 whole Group's combined LTIF (last 12 months) was 13 (2016: 11). Our safety-related efforts are increasingly focused on proactive measures. Chief among these are safety planning, safety observations and on-site safety briefing practices.
We take each and every occupational accident extremely seriously
All accidents are personally reported without delay, and the cases are investigated within three days of the incident. Serious accidents are also immediately reported to the head of the business segment and the safety manager of the segment.
Responsibility in procurement
We employ a substantial number of subcontractors and suppliers in all of our operating countries. We also increasingly engage in international material procurement, but the scale of international procurement remains fairly small compared to the local procurement of construction products that is legally regulated by our operating countries. This means that the most important perspective regarding the responsibility of our procurement is associated with ensuring the legality and quality of subcontracted work, although the relevance of ensuring the responsibility of our material suppliers is growing.
YIT Supplier Code of Conduct
We have a group-wide policy, the YIT Supplier Code of Conduct, which applies to all cooperation with YIT's current and potential suppliers.
The YIT Supplier Code of Conduct requires our partners to comply with applicable national and international laws and regulations, respecting the rights of employees, preventing discrimination, paying special attention to occupational safety, and taking environmental issues into consideration in their operations.
Prevention of the grey economy
We require that all Finnish and Estonian subcontractors used by our company in Finland join a common Internet-based service for the construction industry. The service allows us to confirm that our contractual partners have fulfilled their statutory obligations, such as taxes, pension contributions and other obligations stipulated by collective labour agreements. We do not do business with Finnish or Estonian companies that have not joined this service. The requirement to join the Internet-based service is included in the company's templates for requests for quotes and contracts. For the time being, the system is only open to Finnish and Estonian companies, but we will apply corresponding requirements to subcontractors based in other countries as soon as it is technically feasible.

We also apply other active measures to prevent the grey economy. Taking the Finnish Act on the Contractor's Liability into consideration when concluding subcontracting agreements is part of the basic duties of everyone who works in procurement at YIT. We are also actively involved in developing industry practices, as evidenced by our head of procurement acting as the chair of the Confederation of Finnish Construction Industries' committee to prevent the grey economy.
Reporting breaches
A breach of YIT Business Principles can be reported by using ERC (Ethics Point): yit.ethicspoint.com or to YIT Ethics Committee by e-mail: ethics@yit.fi
Notifications received both through the Ethics Committee and ERC are kept anonymous in relation to the company when needed.
Quality and customer satisfaction
For us, quality construction means flawlessness, a good customer experience and ensuring that our services match the customer's expectations. We have an uncompromising commitment to improving quality, to report on it, and to take it into account in everything we do.
Quality comes free, but the lack of quality can be costly. With this in mind, we expect every YIT employee to take responsibility for the quality of their work. The further we get in the process of construction, the greater the impact of our attitude and quality culture is on the end result. The people involved in various tasks during a single construction project make over a million decisions that affect quality. Even small individual decisions can have a significant cumulative impact, particularly with regard to the customer's perception of the quality of the end product. We must, therefore, do our job right the first time, with no compromises on safety.
Quality management is an inseparable part of other management activities
Our management has an uncompromising commitment to improving quality, reporting on it, and taking it into account in everything we do.
Leading the development of quality at the Group level
Quality is a constant item on the agendas of our management boards and monitoring meetings, and we discuss quality during site visits
We have created a shared Group-wide frame of reference for the development of quality
We have put more emphasis on quality in compensation and benefits
We apply a continuous plan-do-check-adjust procedure and develop proactive measurement methods for evaluation
We research and develop quality culture
We promote open co-operation between companies and associations, as well as the sharing of best practices to improve quality throughout the construction industry
We measure our quality by using e.g. NPS and Q-factor as indicators.
YIT follows the principles of Integrated Reporting, which means that sustainability is an integral part of our Annual Report. You can find information on Integrated Reporting from here.
Besides the principles of Integrated Reporting, our Annual Report includes also a GRI report. More information about GRI reporting can be found from here.
From our Annual Reports you can find a lot of additional information on our sustainability. You can find our latest Annual Report from here.
Lemminkäinen's asphalt cartel issue
YIT and Lemminkäinen merged on February 1, 2018. Information on the asphalt cartel issue is available here.
Follow us
Have you already visited our social media channels?