Merger of YIT and Lemminkäinen
Notice to Lemminkäinen Shareholders in the United States
The YIT shares to be issued in connection with the merger have not been registered under the U.S. Securities Act of 1933, as amended (the "Securities Act") and are being issued in reliance on the exemption from registration set forth in Rule 802 under the Securities Act.
YIT and Lemminkäinen are Finnish companies and the issuance of YIT shares will be subject to procedural and disclosure requirements in Finland that may be different from those of the United States. Any financial statements or other financial information included on this website may have been prepared in accordance with non-U.S. accounting standards that may not be comparable to the financial statements of U.S. companies or companies whose financial statements are prepared in accordance with generally accepted accounting principles in the United States.
It may be difficult for U.S. shareholders of Lemminkäinen to enforce their rights and any claims they may have arising under U.S. federal securities laws in connection with the merger, since YIT and Lemminkäinen are located in non-U.S. jurisdictions, and some or all of YIT's and Lemminkäinen's officers and directors may be residents of countries other than the United States. As a result, U.S. shareholders of Lemminkäinen may not be able to sue YIT or Lemminkäinen or their respective officers and directors in a court in Finland for violations of U.S. federal securities laws. Further, it may be difficult to compel YIT or Lemminkäinen to subject themselves to the jurisdiction or judgment of a U.S. court.
Lemminkäinen's shareholders should be aware that YIT may purchase Lemminkäinen's shares otherwise than under the merger, such as in open market or privately negotiated purchases, at any time during the pendency of the proposed merger.
YIT and Lemminkäinen to combine
The Boards of Directors of YIT Corporation ("YIT") and Lemminkäinen Corporation ("Lemminkäinen") announce to have agreed upon the combination of the two companies through a merger.
The combination will create a financially strong company with urban development as the engine for growth and profitability. The companies' business areas will complement and balance each other and decrease sensitivity to economic cycles.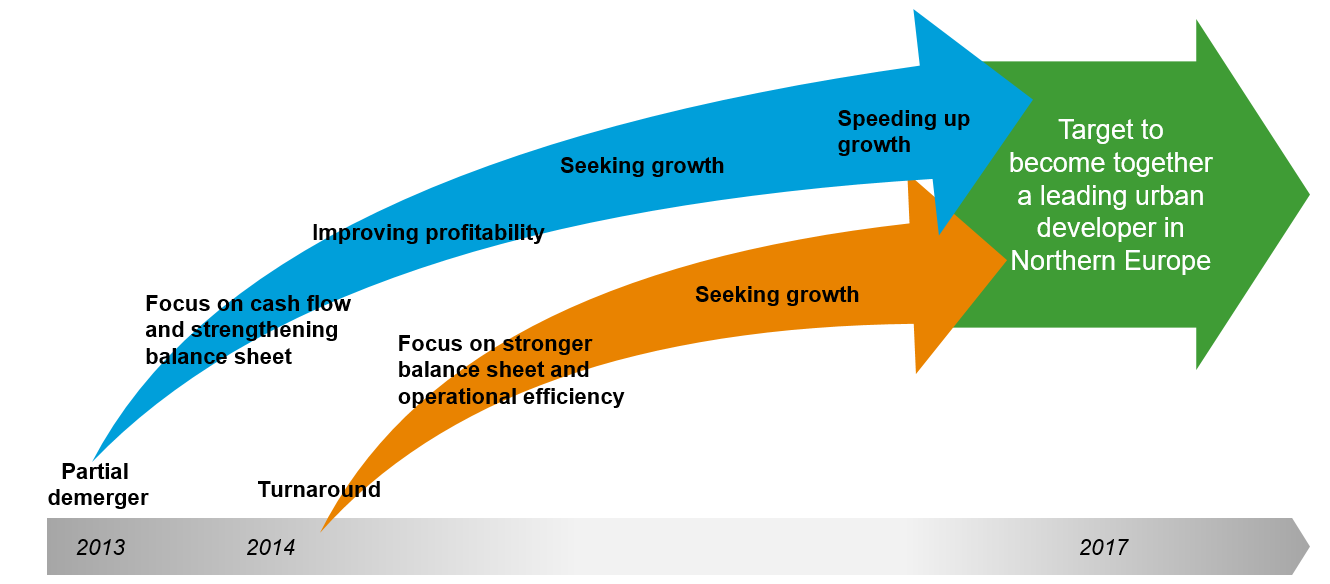 The preliminary combined annual revenue of the combined company is approximately EUR 3.4 billion and operating profit approximately EUR 85 million (IFRS, 2016). The combined company will employ around 10,000 employees located in 11 different countries.
The combination is expected to create significant value for the shareholders of the combined company through decreased sensitivity to economic cycles and improved competitiveness providing a strong platform for growth.
The total synergies are expected to be approximately EUR 40 million annually, and they are expected to materialise in full by the end of 2020.
The combination will be implemented as a statutory absorption merger whereby Lemminkäinen will be merged into YIT.

Lemminkäinen's shareholders will receive as merger consideration 3.6146 new shares in YIT for each share in Lemminkäinen owned by them, corresponding to an ownership in the combined company post-completion of 60% for YIT shareholders and 40% for Lemminkäinen shareholders.
Based on the latest three-month volume-weighted average share prices of both YIT and Lemminkäinen, the corresponding ownership of YIT and Lemminkäinen shareholders would have been approximately 67.1% and 32.9%, respectively.[1]
The completion of the combination is subject to, inter alia, approval by the Extraordinary General Meetings (each, an "EGM") of YIT and Lemminkäinen, which are currently expected to be held on September 12, 2017 as well as approvals from competition authorities.
The combined company has obtained necessary commitments for the financing of the completion of the merger.
Shareholders holding in aggregate approximately 64% of the shares in Lemminkäinen and shareholders holding in aggregate approximately 20% of the shares in YIT, have undertaken to attend the companies' respective EGMs and to vote in favour of the combination.
The combination is intended to be completed on either November 1, 2017 or January 1, 2018, as possible.
The preliminary long-term financial targets of the combined company will be return on capital employed (ROCE) of more than 12 percent, equity ratio above 40 percent, positive cash flow after dividends as well as annually growing dividend per share.
[1] Based on the volume-weighted average prices of YIT (approximately EUR 7.01) and Lemminkäinen (approximately EUR 18.63) on Nasdaq Helsinki during the latest three months until June 16, 2017, said date included.
More information
A press conference was held on June 19, 2017, at 10:00 a.m. EEST
EXtraOrdinary general meeting
YIT's EGM will be held on September 12, 2017 at 10 a.m.
TIMETABLE
June 19, 2017
Announcement
End of August, 2017
Planned publication of merger prospectus
September 12, 2017
Planned date of YIT and Lemminkäinen EGMs
November 1, 2017 / Beginning of 2018
On or about first trading date following the completion: Expected first trading day of the new shares in YIT issued to Lemminkäinen's shareholders